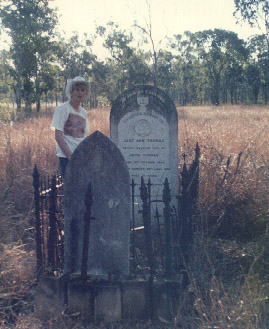 The Grave of Jane Ann Thomas (nee Kinsey) on Fairview Station
My interest in the Cape York Telegraph line has come about through family connections. Frustrated with the lack of information readily available for those who have an interest in this area, I have put together this site in the hope that it will gather information and gradually build a history of what was, for approximately 100 years the eyes and ears of the people of the Cape.
This web site is dedicated to the memory of my Great-Great-Grandmother Jane Ann Thomas nee Kinsey, who lies at peace in a lone grave on "Fairview" Station.
I never even knew you existed until my family paid a visit to Laura, a little town west of Cooktown in North Queensland, in 1973. For two days we searched for your final resting-place and eventually found it. You lie in a lonely grave that stands by itself in the middle of nowhere - the stockmen who pass along the way, the only ones to see these fenced in headstones, apart from an occasional family visit.
As I stood reading the engraving on your headstones - one at the head placed there by your husband, the other at the foot erected by your children, I could not help but feel a sense of closeness to you. Over the years as I raised my own family I thought of your tenacity many times. How I wish I had known you - but that was impossible, having been born one hundred years before me.
Born in Wales, the only daughter of Thomas and Anne Kinsey. You were six years of age when your family decided to immigrate to Australia and were passengers on the immigrant ship "Maria Somes" which arrived in Queensland in July 1852. These voyages were not what one would call a pleasure cruise. Maybe this is where you developed the spirit to face what life had in store.
From there the journey proceeded by wagon over Spicers Gap, presumably by horse and cart, as the road over Cunninghams Gap did not exist in those days. A selection was taken up by your family at Swan Creek, near Warwick in Queensland and this was where you met your future husband, John Thomas. He too was from Wales and had come out to Queensland in 1856 and was working as a carrier with a bullock team and dray and at times worked for your father.

At the age of sixteen you married John at Warwick, in a romantic little church, with slab walls and a thatched roof. Your first home was a tarpaulin tent and later John built your first home, a bark house which consisted of three rooms, but owing to the bark being unseasoned all the dishes and tubs you possessed were required to catch the rain which came through the roof.
Here you gave birth to five children, but only three were to survive - one being my great-grandmother Emily. Around this time your husband suffered a severe attack of sandy blight, depriving him of his eyesight and he was taken to Sydney and Newcastle, where medical treatment was to last for a period of thirty-six weeks and with his sight restored, he returned home to you.
Around 1872, your husband wanted to move on to greener pastures and decided to head north, so you packed up your little family and headed out with your bullock wagon and walked from near Ipswich to Townsville. This was to take you two years and this long trek was crammed with many hardships, and provided many thrilling experiences, the route followed was via Toowoomba, Dalby, Clermont, Springsure and Charters Towers. Some of the country traversed had been in the throes of a drought, followed by a very wet season and consequent heavy stock losses, so much so that many properties were found deserted, among them Carpentaria Downs. Through the windows could be seen the furniture, just as it was left, but no sign of life. I can only imagine how you felt, when you arrived at the homestead of some isolated cattle property to find it completely deserted. Surely this would have made you doubt your husbands wisdom in setting out on this venture.

On your arrival in Townsville, your husband took up carrying to the gold mines at Charters Towers. A few more children were born. All told you gave birth to eleven children, with only six surviving to reach adulthood.
Gold was discovered at the Palmer River and once again you packed up and moved to Cooktown, where your husband at one time had up to twelve bullock teams carting supplies to the miners at the Palmer River Gold Fields. This was to prove very lucrative and your husband earned enough money to take up pastoral leases in the Cape, on the Laura River and entered into the business of horse and stock breeding, which was to prove very successful. These properties were "Fairview" and "Olivevale" and you finally got to settle down with your family.
Sadly you only had seven years there before you died and after years of hardship, you did not live to see the prosperous years, or your dreams fulfilled. These places, even today are very isolated and lonely places for women and it is beyond my imagination to understand what your life must have been like.
Did you get to see your parents any more, or did distance make this impossible? Your parents died at Warwick not long after you, maybe after losing their only child there was nothing left to live for. Today your descendants number many hundreds and we would all like to say thank you, as without your strength, courage and your willingness to follow your husband to the back and beyond, we would not be here today enjoying the wonderful life we have. - We remember you Jane Ann Thomas.